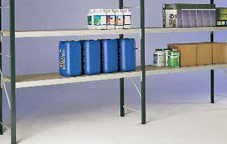 Longspan Shelving
This is industrial shelving for large and heavy materials and is basically a scaled down version of pallet racking. Vertical uprights interface with horizontal load beams (as with any standard pallet racking system) but the load beams are either stepped to accept a chipboard shelf (leaving a flush finish with the top of the load beam to ensure minimal snagging), or the chipboard shelf sits above a more standard box type beam allowing for even heavier loads per level. To increase the load capacity of each level, steel chipboard shelf supports can be added to this industrial storage system.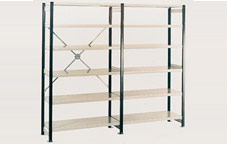 Shortspan Shelving
As the name suggests, this is industrial shelving for smaller parts and generally lighter load capacity requirements (compared to longspan shelving). This is a more conventional type of shelving system that uses a steel shelf sat on shelf support clips that fit into pre-punched holes in the end frame, allowing the shelf to be located easily and quickly. You can choose to have bays completely closed (clad), completely open (braced) or a mixture of the two. We can also fit dividers to create 'pigeon holes' for even smaller picking locations.
Top Archive Shelving
We have a range of standard sized shelving bays specifically designed to accommodate standard archive boxes, ensuring that you get the maximum number of boxes in the minimal possible space.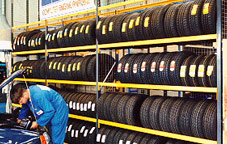 Motor Parts Storage Racks
Within our portfolio we have established a range of different industrial shelving bays specifically designed for the motor industry. Whether you need tyre racks, exhaust manifold holders or somewhere to hang your car doors we have the shelving bay to suit you! Call us to discuss motor industry storage solutions tailored to your business.
Top Multi-Tier Shelving Systems
Using standard longspan or shortspan shelving (depending on your product), we can build tiers of industrial shelving to extreme heights. To reach the many levels, talk to us about installing internal elevated walkways and staircases to eliminate the need (and cost) of a mezzanine floor.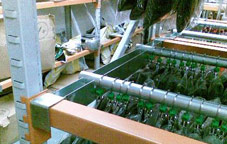 Garment Hanging Systems
Using modified longspan shelving components, these bays have individual garment rails rather than shelves, allowing for multi-levelled storage of all forms of garments. These can also be made into multi-tier systems (see above) if required.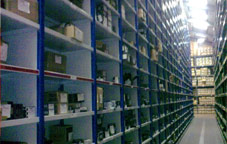 Top High Bay Shelving
We can build all of our shelving systems to great heights, limited only by your overall bay loading requirements and the height of your building. High bay industrial shelving is essentially longspan or shortspan shelving, built extremely high and accessed by specialist access equipment such as a scissor-lift or 'man-up order picker.'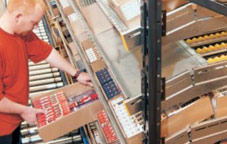 Carton-Live Picking Racks
This form of industrial shelving solution is commonly used with 'Tote' boxes in a fast moving picking operation where the Totes are placed on to roller lanes located within the shelving bays.
The system works with two faces, a loading face and an off-loading face, with the Totes placed in to roller lanes at the loading face. Under the force of gravity, they roll to the off-loading face, giving you a 'First In – First Out' (FI-FO) scenario. This is commonly used as a method of moving stock between your pickers (who load the carton-live system after they have picked the materials) and packers (who off-load the system and pack the materials ready for transport). Alternatively, you can use this form of industrial shelving system like a 'Kan-Ban System', to feed production lines and ensure good stock rotation system.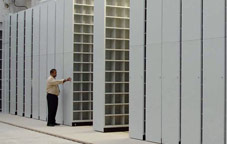 Top Mobile Shelving
Standard longspan or shortspan shelving bays are located onto mobile bases that can be either mains or hand powered (using a wheel) to move them. This means you can achieve incredible storage densities in small spaces as you eliminate the need for multiple aisles. This form of industrial shelving is particularly suited to office environments or stores areas where space is at a premium.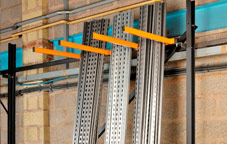 Lean-To Racks
If you have long materials that need to be stored vertically, whilst retaining individual access, then you need lean-to racks. Load materials from the front by hand, while 'wings' that cantilever away from the rear of the racks, keeping each item separate and preventing them from falling over.
Please contact us for more details and to arrange your free site survey.