General Shelving
Our standard steel shelving range comes in bay heights of 1850mm - 2150mm when used in conjunction with a 900mm - 1250mm wide shelf and depths of 300mm - 600mm per bay. All materials come flat packed with instructions for self assembly or we can provide a professional, efficient installation team upon request. Bays are available with open rears and sides (braced) or fully closed (clad) and a full range of accessories are available including various types of document divider; pigeon hole adapters; pull out shelves & drawers; half & full height lockable doors; pull out filing cradles; small parts plastic drawers units; lockable tambour style roller doors etc. This really is the complete shelving range for any office / document facility and is easily adjusted at a later date should your requirements change. It also satisfies the common requirements of BS5454:2000 - "Recommendations for the storage and exhibition of archival documents."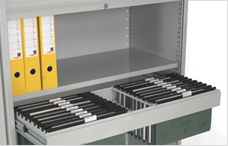 Top Suspended Document Shelving
When our standard shelving range is fitted with our Pull-Out Filing Cradles this creates a perfect area to accommodate your Foolscap and A4 top loaded suspension files. We can fit the shelving bays with multiple levels of these and the cradles slide out on telescopic arms meaning that you retain the original footprint of the shelving bay when the cradles are not extended allowing for a more efficient use of space. We can supply these with lockable doors if required for security purposes.
Lateral & Lever Arch Document Shelving
Our standard shelving range is ideal for storing Later & Level Arch files. We have three different types of document divider for this range so that you can pick the type of document divider that works for you. We can provide solid full height dividers that clip from the underside of the shelf above to the topside of the shelf below allowing for a complete 'Pigeon Hole' or we can put in part height dividers that are either solid or made of wire. These are easily repositioned as your requirement dictates but all of this mounts up to the fact that this is ideal for storing your lateral & lever arch documents and can be set to virtually any location on the shelf so that you can have the exact size that you need. Having these in situ will eliminate the cascade (domino) effect that lateral & lever arch files can have and therefore help to prevent files from been misplaced or muddled up allowing for a more efficient document storage system. We can supply these with lockable doors if required for security purposes.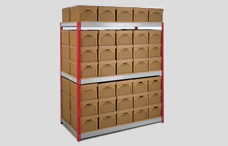 Top Archive Shelving
We have a range of standard sized shelving bays specifically designed to those sizes in order to accept standard archive boxes with minimal wasted space, ensuring that you get the maximum number of files & archive boxes stored in the minimal possible space.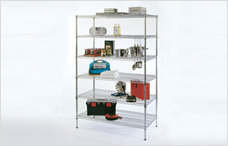 Chrome Wire Shelving
Our chrome wire shelving range is possibly the easiest type of shelving to clean ever! With its bright, clean, modern finish this shelving is becoming more and more popular. It is well suited to kitchen environments & clean rooms as well as laundry & linen stores due to the excellent ventilation that this type of shelving provides. Other common uses include mounting computer equipment on them that needs good ventilation to avoid over-heating. We can also supply the shelving bays with castors meaning that you can convert this shelving bay into a mobile trolley as well as a whole host of other accessories.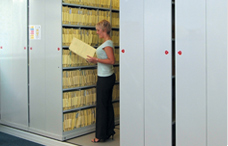 Top Mobile Document Shelving
Our standard document shelving bays can be located on to mobile bases that can be either mains powered or hand powered using a wheel to move them. This means that you can achieve incredible storage densities in small spaces as you eliminate the need for having multiple aisles; you only ever need one aisle that can be moved depending on which run of shelving you need to access. This is particularly suited to office environments or stores areas where space is on a premium. The Health Technical Memorandum (HTM71) particularly advocates the use of high density storage systems due to the space saving nature and efficiency of these systems.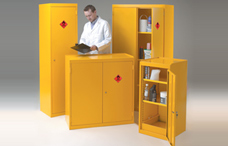 Hazardous Materials Cabinets
Our range of hazardous materials storage cabinets come either full or half height and width with both single and double doors. Our standard finish is powder coated in yellow and we can provide safety labelling in accordance with BS5375 including flammable, biohazard, radioactive, toxic, poisonous, corrosive etc. All these are fitted with internal shelves and a secure lock to ensure that these materials do not fall into the wrong hands when properly locked away.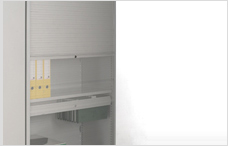 Top Lockable Storage Cabinets
Again as with the hazardous materials storage cabinets we can provide these either full or half height and width with both single and double doors. Our standard finish for the body is powder coated in grey and we have optional door colours of blue, red, green or yellow. These can be supplied with either a standard 2-point lock or a hasp & staple to allow for using your own padlock. We can also provide these cabinets with a 'Tambour' style lockable roller shutter door which is ideal where space at the front is restricted as you do not need to allow any space for the doors to swing open.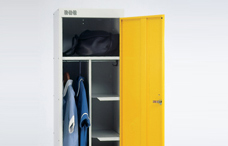 Personnel Lockers
Our locker range is simply unparalleled! We can have up to six tiers per locker, with or without sloping tops, options on lock types, options on ventilation, clean & dirty lockers (with a divide down the middle for clean & dirty clothes), options on the colours, banks of up to three wide are available, etc, etc, etc. There isn't a locker type that we don't supply so tell us what you want and we'll tell you how quickly we can do it!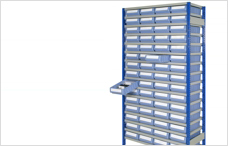 Top Individual Tray Systems
We understand how important it is for you to be able to store small items in an efficient system and that's why we designed our individual tray systems the way that we did. We have a huge range of different tray and shelf sizes and these can all be sub-divided up again if required due to slots in the trays that allow dividers to be positioned. All trays have a clear front label on display and are fitted with a spring loaded shelf stop meaning that the tray can be either pulled clear of the shelf or suspended forwards at 45 degrees away for the shelf giving you 90% clear picking access to each tray. Standard finishes to the shelving bay are powder coated in blue & grey. The standard finish to the tray is in light blue with a white front label.